---
HSS rolls on stands K2 and K5 for rolling rebar
---
Back to list
---
  I、Technical advantages
  Liaoning Yiliansheng New Material Co., Ltd. is a professional manufacturer of high-speed steel roll research and development and production in China. It is a high-tech enterprise with a municipal high-speed steel roll engineering technology research center, and its technical strength has the long-term and comprehensive technical support of the high-speed steel roll research and development expert group of China Iron and Steel Research Technology Group Co., Ltd.
  The high-speed steel roll R&D team headed by senior engineer Gong Kailing is the first high-speed steel roll developer and producer in China, and the inventor of my country's first high-speed steel roll patent. It has been engaged in roll research and development and production for more than 30 years. Since then, we have accumulated rich experience, especially the unique technology in the research and development, manufacture and use of high-speed steel rolls, and obtained 9 national invention patents, of which 7 belong to the manufacturing technology of high-speed steel rolls. In 2018, he was responsible for drafting and formulating my country's first group standard of "Casting High Speed ​​Steel Rolls" (T/CFA02010116.1-2019), and organized and presided over the first, second and third national high-speed steel rolls for bar and wire rod mills. Use technical workshops. He is also one of the main drafters of my country's current national standards for rolls GB/T1504-2008 "cast iron rolls" and GB/T25825-2010 "hot-rolled steel strip rolls". He has published more than 40 articles and won 8 provincial and ministerial level scientific and technological progress two above prizes.
  II、Serialized development and production of high-speed steel rolls
  The high-speed steel rolls produced by Yiliansheng Company firstly manufacture high-speed steel rolls in series according to the characteristics of the rolling material and the number of rolling mills and rolling characteristics. High-toughness high-speed steel rolls, high-speed steel rolls used in intermediate rolling stands, heat-resistant high-speed steel rolls used in rough rolling stands, and high-alloy high-speed steel rolls used in controlled cooling and controlled rolling production lines. Research and develop a new generation of high-strength, heat-resistant, high-wear-resistant high-speed steel rolls used in the endless rolling production line of continuous bar rolling mills; the second is to optimize the composition of high-speed steel rolls to avoid the problem of component segregation in centrifugal production, while improving The high-speed steel roll heat treatment process is adopted to enhance the hardness uniformity of the roll. The high-speed steel roll produced by the company, through the optimization of composition and the improvement of heat treatment process, the uniformity of the surface hardness of the roll body is not more than 2HSD, and the cutting performance of the roll is significantly improved; the hardness drop of the working layer is not more than 1HSD, and the stability of the use of the roll is greatly increased. , the comprehensive service life of the roll can be increased by about 20% compared with the previous similar products, but the sales price of the roll does not increase, which is deeply loved by the majority of users.
  III、product category
  High-speed steel rolls on the stand for rolling rebar finished products
  The high-speed steel rolls used for rolling rebar K2 and K5 stands have always been based on the wear resistance of the rolls as the main performance index, and there is no problem of transverse rib milling. The carbides in the high-speed steel roll structure are mainly MC type, M7C3 type and M6C type. The microhardness of MC type carbide can reach about 3000HV; the microhardness of M7C3 type carbide can reach about 2500HV; the microhardness of M6C type carbide The hardness can reach about 2000HV, the carbide has high hardness and good wear resistance, and the carbide particles are fine, the shape is good, and the distribution and dispersion are uniform. The VC-like carbide is transformed, and the wear resistance of the roll is higher.
  The hardness of the working layer of the roll can be controlled at 85-90HSD. Similarly, the hardness uniformity of the roll surface does not exceed 2 HSD, and the hardness drop of the working layer is less than 1HSD, thus ensuring the wear resistance stability of the high-speed steel roll. , each time the grinding amount is only 2-3mm, which not only improves the output and dimensional accuracy of the rolled material, but also greatly increases the use of the rolls. At the same time, the surface quality of the rolled material has been significantly improved, increasing the market competitiveness of the product.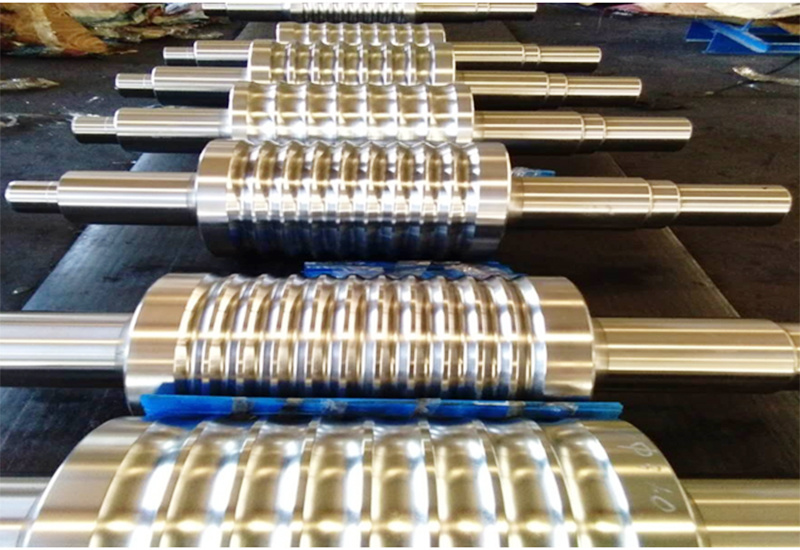 IV、Technological innovation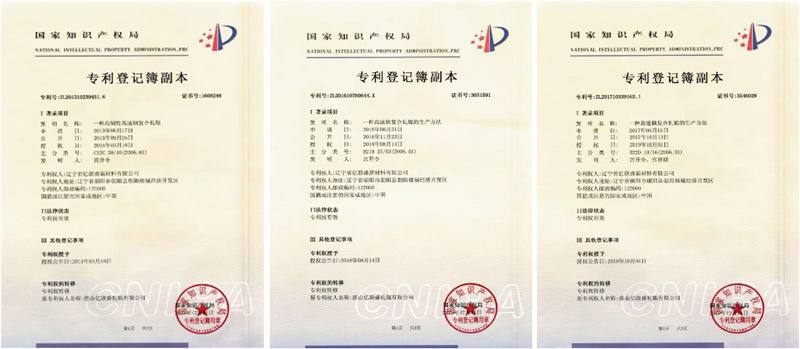 v5、Product Specifications
Roll material

Roller hardness
HSD
Roll neck hardness
HSD
Roll neck strength
MPa

Features

Scope of application

high speed steel roll I

60-75

35-45

≥500

High strength, good heat resistance, good surface roughness of rolled products

For rod and wire rolling mills for roughing stands

high speed steel roll II

70-85

35-45

≥450

Moderate heat resistance, good wear resistance

For rod and wire rolling mills in rolling stands

high speed steel roll III

75-90

35-45

≥400

High hardness, high wear resistance

For room temperature rolling production line bar mill finishing stand

YLS high alloy high speed steel roll IV

80-95

35-45

≥450

High hardness, good wear resistance, high amount of steel

Controlled rolling, controlled cooling and low temperature rolling production line for bar mill finishing stand

YLS high toughness high speed steel roll V

70-85

35-45

≥400

Good toughness and high stability

For bar mill slitting stands

YLS heat resistant high speed steel roll VI

60-75

35-45

≥500

High strength, good thermal crack resistance and fatigue resistance

Endless rolling bar and wire rod mill for roughing stand

high speed steel roll VII

80-95

35-45

≥400

High hardness, high wear resistance

For strip, flat and round steel rolling finishing stands

high speed steel roll VIII

70-85

35-45

≥400

Good toughness and high stability

For small and angle mill finishing stands

High Speed Steel Roll Ring I

75-90

35-45

≥400

High hardness, good wear resistance and fracture resistance

For pre-finishing stands of high-speed wire rod mills, vertical rolls of strip mills

High Speed Steel Roll Ring II

80-95

35-45

≥400

High hardness, high wear resistance

Alloy round steel rolling mill for reducing and sizing stand

Semi high speed steel roll

70-85

35-45

≥450

Roller wear resistance is good

For strip steel, section steel, bar and wire rod mill related stands

High chromium cast iron roll I

70-80

35-45

≥400

Roller wear resistance is good

For strip mill vertical rolling stands

High chromium cast iron roll II

75-85

35-45

≥400

Good roll stability

For strip mill finishing work rolls

High chromium cast steel roll

70-80

35-45

≥400

Good roll stability

For strip mill vertical rolling stands

Bainitic ductile iron roll

70-80

35-45

≥400

Good roll stability

For rolling stands in bar and wire mills

Pearlite ductile iron roll

60-70

35-45

≥450

Good roll stability

Coarse and medium rolling stands for bar and wire mills, and finishing stands for small rolling mills

Infinity Chilled Cast Iron Rolls

75-85

35-45

≥400

Good roll stability

For strip mill finishing work rolls

Alloy semi-steel roll

55-65

35-45

≥450

Good anti-peeling performance

Coarse and intermediate rolling stands for bar mills, back-up rolls for finishing rolls in narrow strip mills